Repaired, replaced, relieved
When things break down, Cinch Home Warranty steps up
A Cinch home warranty provides repair or replacement coverage for mechanical failures of major systems and appliances. Whether the dishwasher suddenly stops washing or the A/C stops cooling, you'll appreciate the savings, convenience and peace of mind that come with home warranty protection. Plus, you can enjoy the benefits of a Cinch home protection plan for as long as you own your home.
Why do you need a home warranty?
Benefits for sellers
Protect your budget from unexpected repair or replacement expenses while your home is on the market.
Market your home with a warranty – the perfect buyer incentive.
Avoid closing delays due to a system or appliance failure.
No up-front costs as the warranty is payable when the property closes.
After closing, the buyer gets one full year of coverage.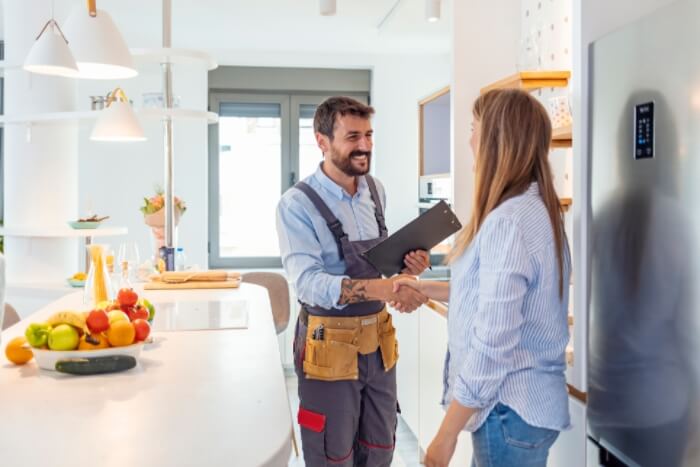 Benefits for buyers
Multi-year discount pricing is available: Lock in the first-year introductory rate for additional coverage years.
You don't have to worry about an unexpected repair expense should a covered system or major appliance break down due to normal wear and tear.
Pay a standard deductible per service call, per trade on covered components.
Save with Appliance Buyline®. Take advantage of Cinch's buying power and get discounts off brand-name appliances for remodeling projects or appliance upgrades.
Plan to be protected with a home warranty
You've thought about blinds versus drapes; you've planned where the sofa will go; but have you thought about your appliances and systems failing? Responsible homeowners often choose to have a home warranty because homeowners insurance does not cover failures of appliances and systems.
Real stories, real customers
Our customers tell the story better than we can. Here are some real-life experiences of our clients.
Still have questions?
Call or text us at
847.994.4432